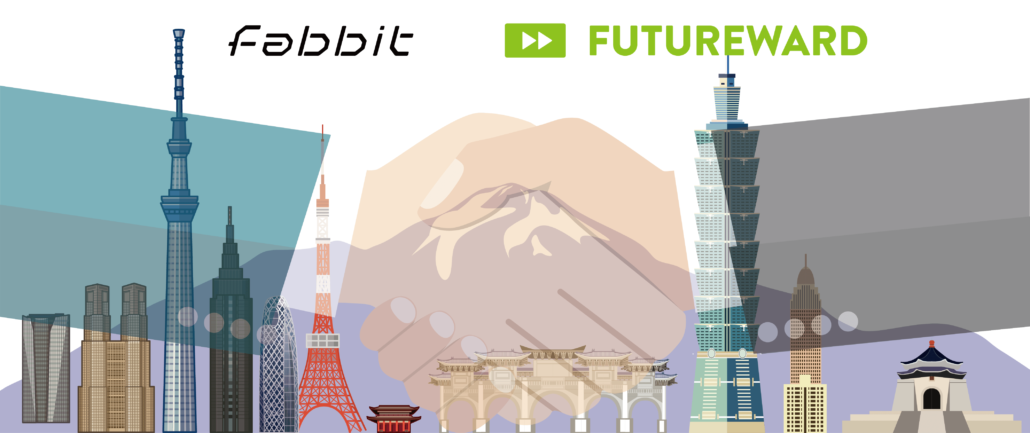 Promoting Global Collaboration and Ushering in A New Wave of Coworking
An essential factor for the development of innovation and entrepreneurship is talent, and the movement of talent internationally is key for knowledge exchange and technology circulation. Thus, FutureWard is actively partnering up with coworking spaces globally in order to connect and link talents worldwide. We are proud to announce that this year FutureWard will be teaming up with Japan's famous coworking space, fabbit. Beginning this year, FutureWard members will have the opportunity to work at 3 of fabbit's wonderful locations; Otemachi Tokyo, Osaka Honmachi, and Fukuoka. For 3 days a month, members that travel to Japan can work at any of the 3 fabbit locations listed above free of charge! In addition to enjoying a high-quality work environment, members can also participate in regular discussions and consult with industry professionals to learn more about startups and gain a better understanding of the Japanese market and its trends. Should any FutureWard entrepreneurs wish to develop their business in Japan, fabbit will gladly provide assistance and ensure that the transition is smooth and will continue to provide aid as they grow.
About fabbit Coworking Rental Office Facilities
Japan's largest coworking space operator, fabbit, supports startups, venture companies, SMEs and facilitates business matching with major corporations at 45 locations around the world, in accordance with the Japanese government's "Japan Revitalization Strategy 2016." In addition to providing workspace, they make use of unique inter-industry and inter-cultural communication made possible by the coworking environment and offer a wide range of startup support programs. fabbit offers solutions to the various challenges startups face by hosting over 1,000 events each year, including large-scale annual and thematic monthly conferences, creating ample networking opportunities. They also hold incubation meetings to discuss strategies for sales or recruitment, and invests through joint funds with a major Japanese venture capital.
An Introduction to FutureWard And Its Contribution to the Startup Ecosystem
FutureWard began operation in September 2016 and has become synonymous with coworking in Taipei. Aside from coworking, FutureWard also supports local startups, assists foreigners with their businesses, and helps entrepreneurs learn how to fundraise and pitch. In the past three years, FutureWard has serviced over more than 1500 members, 150 companies, and held over 110 startup and entrepreneur related events, attracting over 5000 participants. Additionally, FutureWard has collaborated with several government organizations and programs such as TITAN (Taiwan Innovation & Technology Arena), GST (Global Startup Talents @ Taipei 2018), and more recently, TTA (Taiwan Tech Arena) sponsored by the Ministry of Science and Technology. FutureWard has continued to grow and has built and cultivated a vast network of partnerships with local coworking spaces, accelerators, foreign venture capital firms, and angel investors. With over 500ping of space, FutureWard has continuously aided both local and international teams with their service, allowing many companies to develop and expand rapidly in a short amount of time and establish themselves in the startup ecosystem.
Partnering with fabbit will not only expand FutureWard's opportunity to connect with international teams, and experience new technology and resources, but also create a win-win situation that builds a bridge between Japan and Taiwan, ushering in new horizons and international stimulation for coworking and startups.
【About fabbit Co., Ltd】
Representative: CEO Yasunari Tanaka
Head Office:Asahi Seimei Otemachi Bldg, 2-6-1 Otemachi, Chiyoda-ku, Tokyo , Japan.100-0004
https://futureward.com/wp-content/uploads/2020/02/fabbitxFutureWard_2-2.jpg
1667
2063
ll
/wp-content/uploads/2019/08/cc.png
ll
2020-02-13 15:00:25
2021-06-02 13:46:59
FutureWard Breaks into The Japanese Market – Transnational Coworking Partnership with fabbit