If you are a small company or freelancer, FutureWard Central is the perfect space for you!
Our coworking space is divided into three main sections: Dedicated Desks, Hot Desks and Dedicated Pods. We also have many open areas and social spaces for our members!
Dedicated Desks
Dedicated Desks are desks that are "dedicated" to you, and members who rent these desks may leave their belongings without having to worry about packing up after the workday. Lockers are also provided for members who wish to lock away any valuable items at the end of the day. Each desk is equipped with a desk, comfortable task chair, desk lamp, and extension cord. Since this desk is reserved for you, members can decorate and rearrange their desks however their wish. Most desks have a partition board in which you can pin important documents or stick post-it reminders. Some members even bring small drawers or cabinets to enhance their desks.
Dedicated Desk members also have flexibility in their work environment; they can choose to work at their desks or move to the many open areas around the space! Members who wish to access the space outside company hours and can also choose to upgrade to a 24/hr Dedicated Desk membership. Dedicated Desks are perfect for members who want their own private space, but can still access the open area for collaboration with others!
Dedicated Pods
New to our coworking space is our Dedicated Pods! These pods are the perfect work space for member who need to make a lot of phone calls or who need to work with other time zones. Dedicated Pod members have 24/7 access to our space and have their own personal key for their pods. The pod fits 2 comfortable so you can bring a guest!
Hot Desks
Hot Desks are another popular choice at our co-working space and are perfect for members who cannot to commit long term or just want to try out the space. Our Hot Desk area is equipped with comfortable seating, assorted tables, and even sound-absorbing boards just in case discussions get a little too excited. This atmosphere is perfect for small teams or individuals who enjoy a light conversation. We also highly encourage collaboration among members. The Hot Desk area is also ideal for small informal meetings or quick catch-ups between friends.
Your work requires privacy, but you don't want to miss out on having a vibrant coworking community? Our Dedicated Pods are single private cubicles that allow you to handle your business in your own enclosed space, 24-hrs a day. Your Pod comes with a desk, a chair, a table lamp, and a lock key.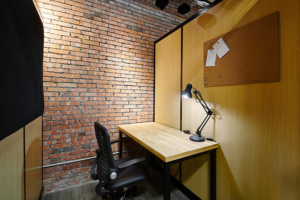 Members are also free to work in our Atrium area which is showered daily with natural sunlight and filled with fresh oxygen from our plants – the perfect place for inspiration to occur!
If you enjoy collaboration between members but might not be able to commit fully to a space, our Hot Desks are perfect for you!
https://futureward.com/wp-content/uploads/2019/08/GardenDesks_03.jpg
1495
2239
ll
/wp-content/uploads/2019/08/cc.png
ll
2019-08-13 17:20:41
2021-08-12 11:42:53
FutureWard's Coworking Space