Taiwan Adventure Outing is a local business organizing activities to explore Taiwan's beautiful nature and culture.
Three years ago, they started the Taiwan National Clean Up Day (TNCU), an initiative to clean tons of garbage across Taiwan. With the help of Sponsors, they were able to collect four tons of trash in 2018.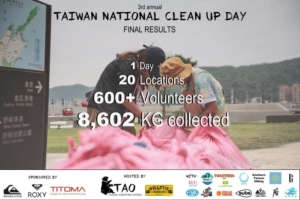 This year marks their third anniversary, and FutureWard is proud to be able to join in on the efforts.
Early in the morning, around 8 am a big bus left FutureWard's location at Changchun Street 343. On the bus were 30 people from all around the world, including the FutureWard staff. At the site, another 40 people arrived through their own means. With a hearty breakfast in everyone's bellies, we started to collect garbage at around 10 am at Fulong Public Beach. The first shocker happened when some of the volunteers found a dead animal wrapped in a plastic bag and buried in the sand. Governmental services had to be called to deal with the body. Just a short amount later some of the guys found a broken fishnet filled with plastics and all kinds of other trash, half-buried in the sand. It took the manpower of over 20 people and four hours to free the heavy net from the sand and carry it to the trash disposal location. Apart from plastics, we found styrofoam, which was very difficult to clean up as it broke apart into small little pellets. Another curious find was a rotten fish in a plastic bag…
With a total trash amount of 536kg, we were proud of what we have achieved!
Thank you to Taiwan Adventure Outing and to everyone that was able to join that day!
https://taoutings.com/?fbclid=IwAR1JnaISt_Fti51X80WiWlIgEpkxh4RHxs-qvxgiDqQgcSRlx0VPdntxPrw
https://futureward.com/wp-content/uploads/2019/08/FutureWard-Beach-Cleanup-min.jpg
1512
2016
admin
/wp-content/uploads/2019/08/cc.png
admin
2019-08-13 19:54:05
2019-09-10 15:48:57
FutureWard Fulong Beach Cleanup